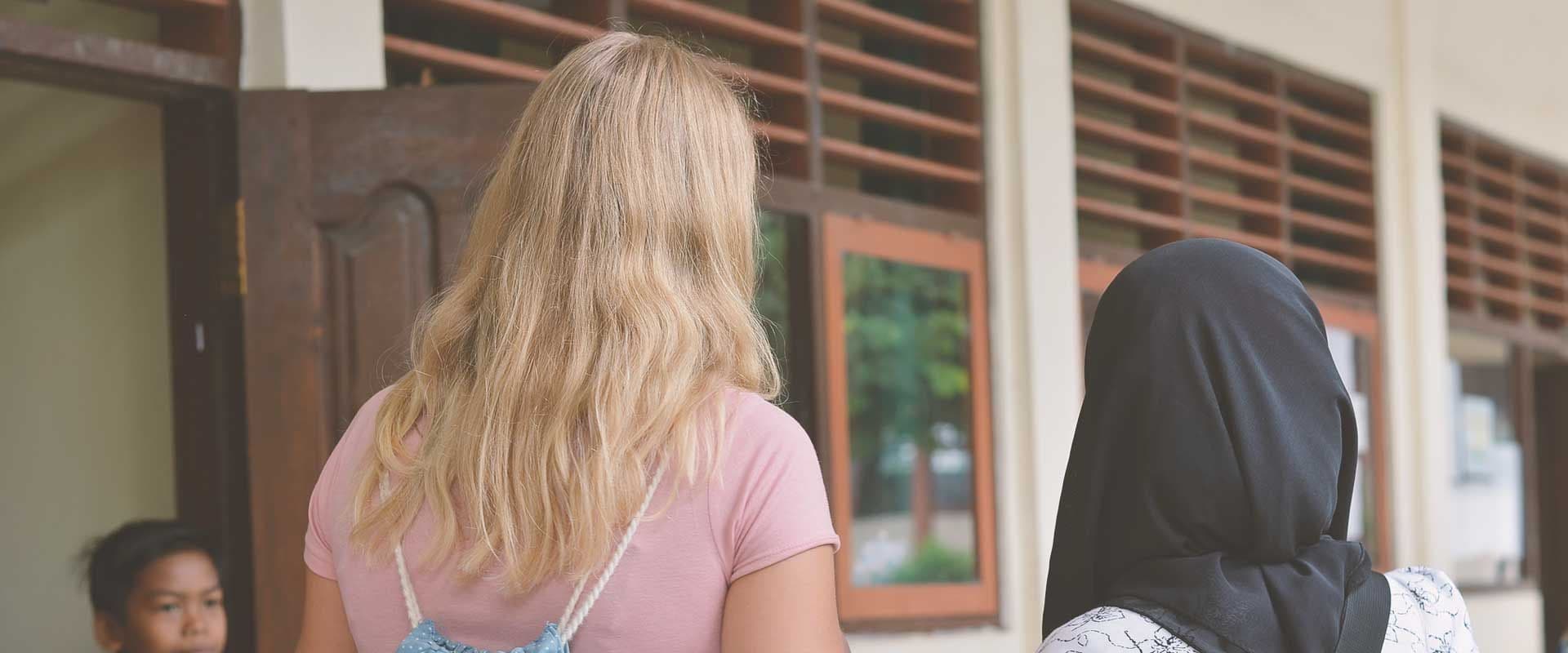 The sustainability of the work of our volunteers in very important to us. Already the choice of the program has a decisive influence on this. This guide will help you to ask yourself the right questions about choosing a program and to find the most suitable project for you.
1. Before You Decide
Is My Intention Pure?
All programs are real! This means, that also the fates and the living conditions of the locals are. Please be aware of, how sensitive you are to these social unspoken topics and more important if you can handle these situations once you are in a different environment.
Some of the projects are located in remote places, mostly hours from a bigger city. But it will not be as lonely as you might think. If you are sociable and take the initiative to talk to people, you will easily make friends.
Take your time! Being a volunteer means to not rush through daily life. You will need your time to adjust to your new environment, and also the people in the projects will need time to get to know you. Even though it is possible to participate in two weeks in some voluntary works, you should keep in mind that this does not give you enough time to make remarkable changes.
Cost of Living Abroad
Voluntary work is without any financial compensation!
---
What budget did you set for yourself during your travels?
---
Shortly list all the costs, which you might occur during your travels. We regularly try to update our list of worldwide costs of livings.
---
How much time do I want to spend on voluntary work and how much on leisure time? Your expenses will adjust to your desired lifestyle.
---
Check out our tips for financing! You might find a few ideas, which you have not thought of yet, on how to finance your travels.
Before You Get to Know the Projects, Get to Know Yourself!
2. The Right Project for You
Think thoroughly, what motivation you bring on your trip, how much power and strength you have, what you want to accomplish, and how much you want to be involved in the voluntary work. After this start looking for the project, which is consistent with your goals. We also provide you some assistance in finding the most suitable project.
If you are not sure, please do not hesitate to give us a call. Over the years we got to know many volunteers and we assume ourselves to have developed a good knowledge of who is suitable for which project. We will be happy to help you make your decision.
Decide if you are more flexible in your choice of project or your travel period. Due to the reason that we support also our small projects sustainably, the capacity of many projects is limited.
Tip: Do not just settle for one particular project. It is already enough to know in which country you would like to go and in what field of social work you would like to engage yourself in.
3. Log In & Choose Program
Once you have found your program, log in, and click through the registration form. Afterward, we will check your application for availability, and if you are eligible for the program and proceed with your registration, or we will discuss your choice again with you.
4. Placement in a Volunteer Project: Your Checklist
After your registration, you will directly be contacted by your future local program coordinator by email. In some cases, there will also be a skype interview. Below you will find all the important information about the program, preparation, arrival, and about the stay abroad.
Our tip: use the following points as a checklist for your interview with your program coordinator or check, if you have been informed sufficiently by email and information sheets about all listed points.
The local program coordinator knows about the capacity of the projects and also if there are school holidays.
You will receive further information when your first day of the project will be.
You will get all information about the project and task description.
Are there certain customs, dress codes, or other cultural characteristics?
Where will you stay during the program, which equipment is to be expected?
Which means of transport are used from your accommodation to the project?
You will get helpful tips for your visa application.
Vaccinations and Insurance
You have to take care of certain vaccinations long before you leave. Just ask your coordinator!
Not all things are available abroad. Do you have diabetes, or do you need certain medications? Your coordinator knows if these things are available on site.
Fellow Travelers & Travel Buddies
Who participates in the volunteer project at the same time? Get in touch with your fellow travelers before you start your trip.
5. Flight Booking, Visa, and Insurance
Flight Booking:
After you have been in contact with the project coordinator and he has confirmed your arrival dates, you can book your flight. So you can discuss your arrival with your local coordinator to make sure you're not arriving during school or public holidays. Right after your booking, you should update your online profile with your flight dates. This way, we and your project coordinator will automatically be informed and are able to organize your airport pick-up and accommodation.
Visa:
Now that you have all the information, you can make the last important travel arrangements. Apply for the visa in time to avoid travel stress close to your departure.
Insurance:
For every trip abroad, you need special health insurance to avoid worrying about the costs of medical care overseas. It is also advisable to have travel insurance.
Arrived On-Site
6. Changing Accommodation
Even though our program coordinators try to inform you well enough about our types of accommodation, your expectations might not be met and you are not content with it. Our tip: Before you decide to move by yourself, get in touch with the coordinator, and talk about possible other accommodations. Volunteers, who decide to move independently, need to cover the additional costs by themselves.
7. Changing the Project
It may be that your project does not meet your expectations and you would like to help even more. Show your commitment and talk with someone from the project, or with our coordinator about the problems and expectations. A lot of times you have the possibility to help in an additional project or even change projects if you have plausible reasons. After you return home, we cannot change the situation anymore and there is hardly a chance of refunding.
8. Extending the Project/Stay
Committed volunteers are welcome to extend their projects. Please consult your local program coordinator for this, as he knows the capacity of the projects and accommodation and can plan you accordingly.
9. Confirmation of your Project
All confirmations of the projects will be handed out by our program coordinator in a specific country. This also applies to other important documents you might need for your university, CV, scholarships, or children's allowance. After you return home it will be quite difficult to request these documents due to the long distance.